Veeam Solutions for Service Provider

Build powerful BaaS and DRaaS offerings with Veeam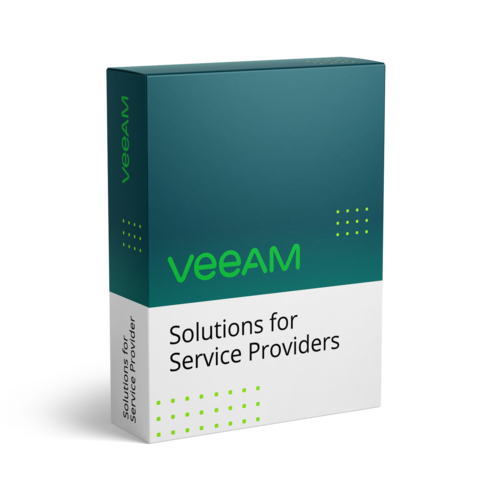 Overview
Power your business with the best in Cloud Data Management
As a service provider, you need a technology partner with best-in-class offerings that will meet and exceed your ongoing data management needs. A partner with simple, flexible and reliable products that have earned the loyalty of hundreds of thousands of customers around the world. A partner like Veeam®.
Our products and business development efforts are hyper-focused on helping you bring in new customers, build recurring revenue and break into new markets. Leverage the full capabilities of our Cloud Data Management Platform to help your customers free up key resources (and dollars!) so they can focus on growth and innovation. See for yourself how Veeam can help.
---
Infrastructure Protection
Backup and intelligent recovery of production workloads residing in your hosted or customer-owned infrastructure
Service Provider Data Protection

Tired of babysitting backups? An essential component of any Infrastructure as a Service (IaaS) offering includes backup and recovery, but it's not a feature your team wants to spend time managing. You need a set-and-forget solution that is also flexible enough to provide some degree of access to your customers — a duality that is often hard to find in-market.
Veeam's powerful replication capabilities, coupled with secure self-service, offer your customers the power to handle their day-to-day but give you the control needed to add or maintain the "9s" commitment for your uptime SLAs.

MSP Backup

Managed Service Providers (MSPs) spend a significant portion of their time on break/fix activities — but backup shouldn't be one of them. Backup and recovery should be simple and reliable so that you can focus on the value-added services your customers demand.
Veeam's solutions for virtual and physical workloads enable you to remotely manage backup and recovery for customer's on-premises environments. Now, you can stop stove-piping your services with a variety of backup tools and start standardizing your service on a simple, reliable solution.
---
Off-site Backup and DR
Enterprise-caliber disaster recovery and data retention, powered by the reliability and affordability of your cloud services
Off-site Backup

From the desire to reduce storage costs to new compliance requirements for long-term retention, data management needs have compounded in recent years. Backup to tape, object storage and a stand-by cloud are all options customers are looking for — and your service should account for all three.
For service providers of all types and sizes, it's easy to extend Veeam-protected devices to an off-site location using whatever storage option makes sense for your customers' recovery needs — including sending backups to your multi-tenant cloud infrastructure.

Disaster Recovery as a Service (DRaaS)

IT administrators report experiencing five to ten unplanned outages every year1. Customers know they need a disaster recovery location to stay resilient, and partnering with a third-party provider keeps costs low and skill delivery high.
Veeam offers the connector between customers and providers, natively supporting the capabilities needed to execute a partial- or full-site failover, making disaster recovery an affordable and effective reality.
---
Public Cloud Data Protection
Availability and portability for hyperscale cloud workloads like Microsoft Office 365 installations and AWS Instances
Azure and AWS data protection

FAs more production workloads move to big-brand IaaS providers like Amazon Web Services and Microsoft Azure, service providers of all types are looking to ride the wave of demand for value-added services.
By building Veeam-powered Backup as a Service (BaaS) for these offerings, providers can offer the hybrid cloud or cross-cloud experience customers need to ensure they maintain sovereignty over their data.

Software as a Service (SaaS) data protection

Microsoft provides powerful services within Office 365 — but backup isn't one of them. By showing your customers the "Shared Responsibility" model, you'll assert yourself as their trusted advisor and add a net-new revenue stream to your portfolio.
Veeam makes building BaaS for Microsoft Office 365 easy, including clear-cut SLA reporting so you can prove the value of your services.
---
Veeam Cloud Data Management Platform: Backup for what's next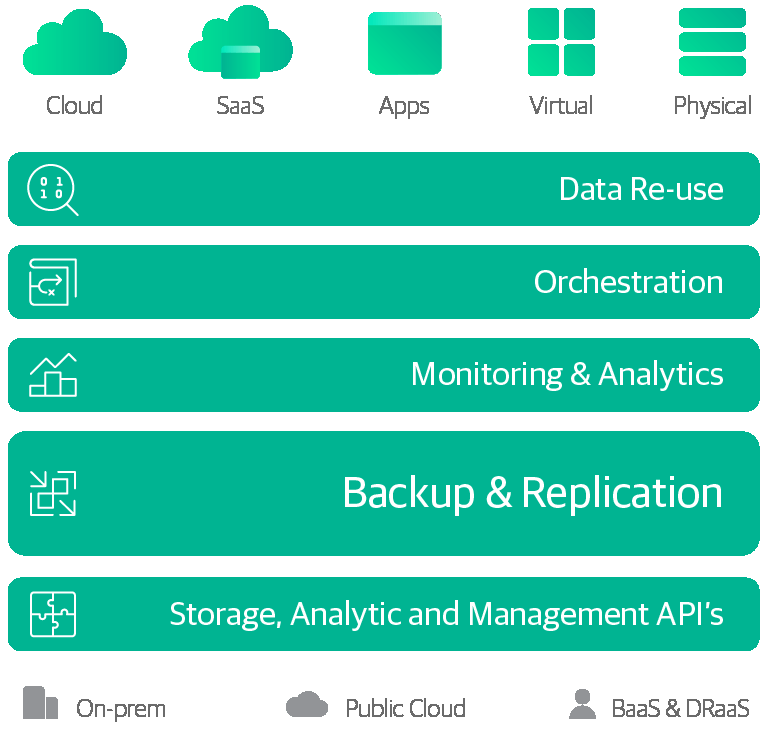 Backup + Recovery
For Virtual Machines
Veeam Backup & Replication™ delivers availability for ALL cloud, virtual and physical workloads. It also provides support for VMware vCloud Director to simplify management and increase efficiency for service providers.
For Physical Servers and Workstations
Veeam Agent solutions are comprehensive backup and recovery tools for workstations, physical servers and cloud instances. These solutions allow service providers to offer Backup as a Service for an entire environment.
For SaaS
Veeam Backup for Microsoft Office 365 eliminates the risk of losing access and control over Office 365 data. This includes Exchange Online, SharePoint Online, OneDrive for Business and Microsoft Teams.
Service Administration
For Multi-tenant Offsite-Backup and DRaaS
Veeam Cloud Connect works with VMware vCloud Director to simplify the DRaaS process. This powerful combination allows service providers to easily set up and maintain a secure multi-tenant environment.
For Remote Monitoring and Management
Veeam Service Provider Console helps you launch a managed backup services business. It also integrates with ConnectWise Manage to consolidate management, monitoring, and billing into a single view.
For On-site Monitoring and Reporting
Veeam ONE™ delivers deep, intelligent monitoring, reporting and automation for virtual and physical environments. It is a key solution in resolving problems before operational impact.
For DR Orchestration
Veeam Availability Orchestrator delivers a reliable, scalable and easy-to-use orchestration and automation engine. It minimizes operational impact with speedy and successful recoveries every time.
---
Comparison
PRODUCT
VEEAM BACKUP & REPLICATION COMMUNITY EDITION
VEEAM BACKUP & REPLICATION
VEEAM AVAILABILITY SUITE
RELIABLE BACKUP, RECOVERY & REPLICATION
Virtual: VMware, Hyper-V & Nutanix
Yes
Yes
Yes
Physical: Microsoft Windows, Linux & Mac
Yes
Yes
Yes
Physical: Oracle, SAP & UNIX
No
Yes
Yes
Cloud: AWS, Microsoft Azure and more
No
Yes
Yes
NAS Backup
Partial
Yes
Yes
Scale-out Backup Repository™, including Veeam Capacity Tier & Archive Tier
No
Yes
Yes
Veeam Plug-ins for Oracle RMAN and SAP HANA
No
Yes
Yes
Backup from Storage Snapshots
No
Yes
Yes
Build-In Replication
Yes
Yes
Yes
Continuous Data Protection
No
Yes
Yes
Veeam Instant Recovery Engine
Yes
Yes
Yes
Veeam Explorers™ for Microsoft Active Directory, Exchange, SharePoint and SQL Server and Veeam Explorer for Oracle
Partial
Yes
Yes
Veeam DataLabs™
No
Yes
Yes
APIs, self-service tools & Enterprise Management
No
Yes
Yes
Data Reuse & third-party integration API
No
Yes
Yes
Veeam One TM
Monitoring, Reporting & Analytics
No
No
Yes
Intelligent Diagnostics & Remediation Actions
No
No
Yes
Capacity Planning and chargeback
No
No
Yes
VEEAM DISASTER RECOVERY ORCHESTRATOR
DR failover orchestration
No
No
Yes
DR testing
No
Optional DR Pack add on
Optional DR Pack add on
DR automated documentation
No
Optional DR Pack add on
Optional DR Pack add on
Full Feature Comparision Veeam Backup & Replication and Veeam One (.PDF)
Full Feature Comparision Veeam Agent for Microsoft Windows and Veeam Agent for Linux (.PDF)
Documentation:
---
Pricing Notes:
Pricing and product availability subject to change without notice.
Veeam Software is licensed per physical CPU or socket for each Managed Server unless otherwise specified. Base products include first year maintenance.
Veeam Software reserves the right to correct an error without notice.
As of October 1st 2018, the minimum purchase requirement on all subscription orders must be 10VMs.
Contact Us for More Information