Veeam Data Protection Platform

#1 Modern Data Protection

Data Security
Stay confident that your data is always protected with multi‑layered security.

Data Recovery
Recover exactly what you need, where and when you need it.

Data Freedom
Protect all your data anywhere, in any way, with zero lock‑in.
We Keep Your Business Running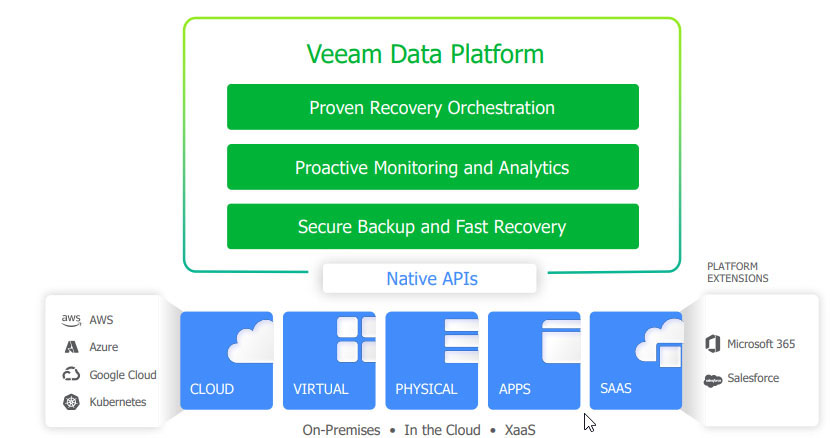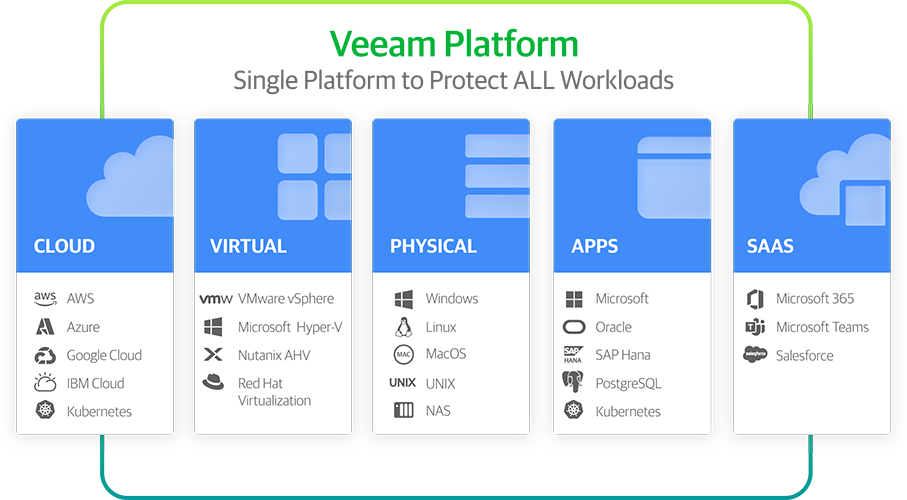 Data Resiliency Pillars
Veeam Data Platform delivers innovative data resiliency built upon three foundational pillars.
Data Security
Data Recovery
Data Freedom
Multi‑layered security gives you the confidence that your data is always protected.
Recover exactly what you need, when you need it.
Protect all your data, anywhere, any way, with zero lock‑in.

Secure Backup

Ensure end‑to‑end security with encryption and immutability.

Secure Recovery

Avoid re‑infection with ransomware‑free restores.

Secure Access

Prevent unauthorized access and malicious actors.

Instant

Utilize the fastest restores of entire workloads with near‑zero recovery time objectives (RTOs).

Granular

Quickly find and restore individual objects, files and folders.

Orchestrated

Achieve proven one‑click recovery of large‑scale, complex operations.

Broad Workload Coverage

Expand native support for all critical workloads.

Infrastructure Observability

Optimize reliability and cost across your choice of infrastructure.

Multi‑cloud Mobility

Move data to, from and across platforms for complete control and flexibility.
Veeam Data Platform — Packaging Options
Delivering Data Security, Data Recovery and Data Freedom to your entire hybrid environment, including cloud, virtual and physical workloads. Available in three powerful, enterprise-grade editions.
Premium
---
+ Available Ransomware Warranty
Why You Need Data Resiliency
85%
of companies have experienced at least one ransomware attack in the past year.
82%
of companies use manual processes to recover their data after an outage.
95%
of organizations are moderately to extremely concerned about cloud security.
Source: Veeam 2023 Data Protection Trends Report, Fortinet Cloud Security Report