Veeam Backup for Salesforce

Your Data. Your Responsibility

Overview:
Backup Salesforce Data Effortlessly With Veeam
Many organizations don't believe that Salesforce needs to be protected, and that their data and metadata are safe in a cloud somewhere. We disagree – and so does Salesforce.
Salesforce data backup is critical to prevent data loss, ensure compliance and enable fast recovery.
Protect Salesforce the Veeam Way
Veeam Backup for Salesforce eliminates the risk of losing your data and metadata due to human error, integration issues or other Salesforce data loss scenarios. We provide a comprehensive, purpose-built Salesforce backup solution, giving you the ability to recover from Salesforce data loss with speed and confidence.
Complete Control
Deploy your Salesforce backup anywhere you choose, strategically separating your backup from the source to avoid backup and storage lock-in.
Flexible Recovery
Recover exactly what you need, whenever and wherever you need it, with intelligent recovery options for both bulk and granular restore scenarios.
Purpose-built Backup
A custom-engineered Salesforce backup solution specifically for Salesforce data and metadata, including granular scheduling, near-continuous backup and efficient use of Salesforce APIs.
Salesforce Data Loss is More Common Than You Think
Only 24%
of organizations are completely confident they could restore their Salesforce data after a bad import.
39 Hours
The average time it would take an organization to recover 100 Salesforce accounts and their related records.
Only 11%
of IT professionals have reached their Salesforce data retention mandates.
81%
The amount of IT experts who are concerned about human-error-related Salesforce data loss.
Why Backup Salesforce?
Organizations rarely think about backing up their Salesforce data until it is too late. Eventually, there will be some sort of incident - an accidental deletion, data loader mishap, or integration error - that will cause business-critical data loss. When this happens to you, how quickly will you be able to recover?
Protecting Salesforce is a Shared Responsibility. Even though Salesforce manages the infrastructure, it is your responsibility to protect your organization from Salesforce data loss and corruption.
Salesforce agrees with this: "It is important for Salesforce customers to develop a routine data backup strategy as part of their overall data management and security model."
Veeam Backup for Salesforce makes backup and recovery a breeze. Don't wait until it's too late; run backups and protect your Salesforce data and metadata in minutes.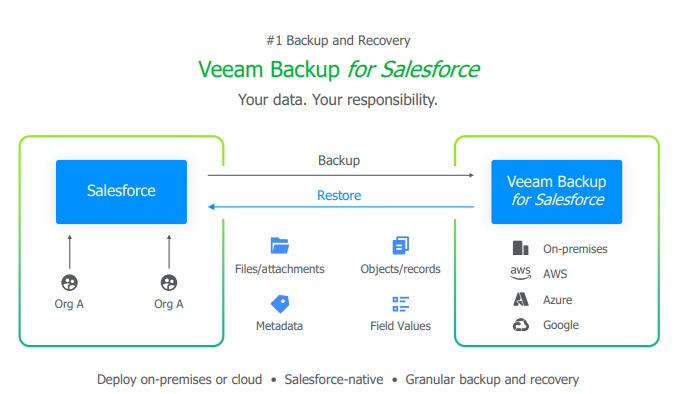 Confidently Backup and Restore Your Salesforce Data
Salesforce backup and recovery from Veeam gives you what others can't: Complete access and control. You control your backups, and you choose the storage.
Salesforce-native
Purpose-built to backup and restore Salesforce data and metadata.
Fast and Flexible Recovery
Recover Salesforce records, hierarchies, fields, files and metadata.
Secure Your Data
Own your data and run your backup environment anywhere: On-premises, in AWS, in Microsoft Azure and more.
Custom Scheduling
Set granular backup schedules and retention settings at the object level.
Simplified Management
Manage backup policies for several Salesforce organizations from one console.
Incremental Changes
With incremental sync and flexible scheduling, you can backup your Salesforce data almost continuously.
Simple and Easy-to-Use UI
Click, click, click and done. Run backup policies and restore jobs in minutes.
See and Compare
See versions of records and metadata and quickly compare it with production.
Restore Hierarchy
Granularly restore linked child objects to any record. You can restore parent records as well.
How it works
Backup and Recovery on Your Terms
Veeam Backup for Salesforce allows you to choose what you backup and when, while offering filters to restore only the versions needed.
Continuous Backup

Backup Every Day or Every Hour, the Choice Is Yours

With incremental sync and flexible scheduling, you can backup as often as you want.

Compare Versions

Filters Allow You to Quickly Search for What You Need

Easily identify differences between production and your Salesforce backup data making recovery easy.

Flexible Scheduling

Be as Granular as Necessary When Creating the Perfect Schedule for Your Business

Set your backup jobs to run at any schedule and even customize them at an object level.

Restore in Minutes

Quick Restoring Allows You To Meet Your RTOs (Recovery Time Objectives)

Recover from data loss in a fast, flexible way.
Packaging Options
Veeam Backup for Salesforce Pricing
Veeam keeps it simple with a licensing structure that aligns with your Salesforce usage.
Veeam Backup for Salesforce is available in 1- to 5-year annual subscriptions. Licenses are sold per Salesforce user license (with a required minimum purchase of 10 licenses) and include Production 24.7.365 Support. Licensing of 100% of active Salesforce users is required.
Salesforce requires API access included in Salesforce Enterprise and Unlimited editions, and can also be purchased separately with the Professional edition.
Purchase must cover 100% of active Salesforce user licenses.
Adding Salesforce Backup Licenses and Renewals
When you add Salesforce users, you'll have the flexibility to add more Veeam Backup for Salesforce licenses and co-term your different license purchases to match up with the same subscription cycle. This keeps subscription expiration dates and renewals simple and straightforward.
At the end of the license period, both the use of the product as well as support will be turned off. To renew a subscription license, simply purchase another subscription license at the then-current rate.
You can also purchase multi-year subscriptions to lock in the current price.
FAQs for Salesforce Data Backup: