Veeam Backup Solution for Small Business

Powerful, easy-to-use and affordable backup with Veeam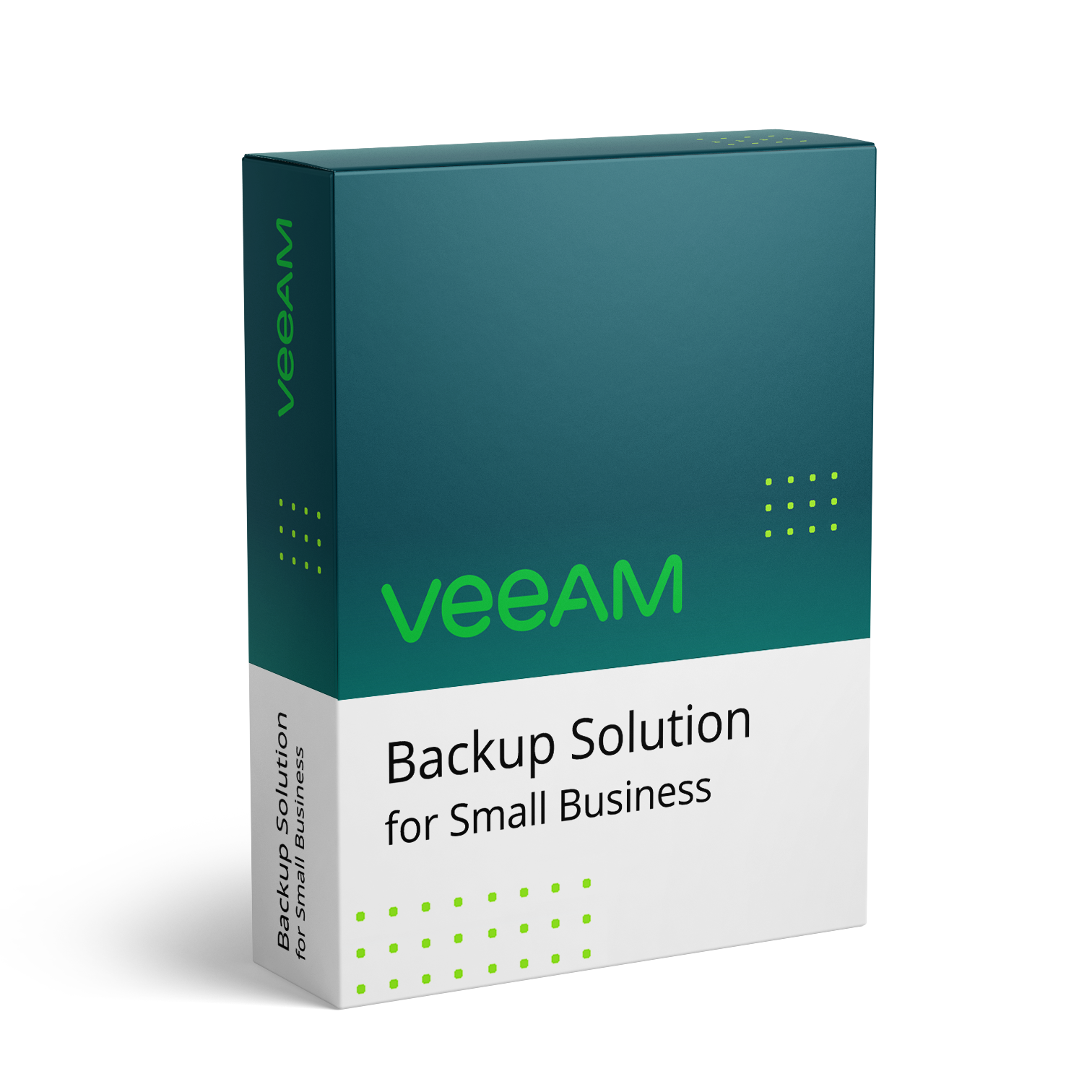 Overview
Protect your Data with the Market Leader
Operating a small business can be overwhelming. You're managing your own IT with limited time, smaller budgets and fewer resources. You're forced to do more with less. This is why you need a backup solution that just works.
Veeam® Backup Essentials™ provides a single platform for virtual, physical and cloud backup. Our solutions include backup and recovery for VMware vSphere, Microsoft Hyper-V, Nutanix AHV, Windows and Linux Physical Servers, NAS, AWS, Azure, Google Cloud Platform, Office 365 and more.
Overcome the "3C Backup Problem" — lack of capabilities, complexity and cost — with the best backup solutions for small businesses
Powerful

Reliable backup and fast restores will eliminate the risk of data loss and downtime. More than a decade of data protection leadership and innovation, eliminating the biggest backup challenges.

Easy-to-Use

Simple installation and management that doesn't require special skills, a large staff or a steep learning curve. Backup and recovery that just works, backed by excellent support and an engaged community

Affordable

Specially packaged pricing for small businesses with built-in license portability that can evolve with you and your business. A quick and achievable ROI; just what a small business needs.
---
Veeam-powered BaaS and DRaaS
Service providers save the day with Veeam!
To solve the "3C Backup Problem", which is lack of capability, complexity and cost, your data protection solution must be simple, flexible and reliable. Your solution should also allow you to avoid downtime without sacrificing security. This is not an easy or affordable task for many small businesses, especially since more employees than ever are working remotely.
This is where Veeam's global network of service providers can save the day. With Veeam-powered Backup as a Service (BaaS) and Disaster Recovery as a Service (DRaaS), you get all the benefits of our powerful data protection solutions for the data center, endpoints and the cloud, coupled with a hyper-focus on your service level agreements and deep industry expertise.
---
Performance and configuration assessment
Veeam ONE's performance and configuration assessment helps you better understand what's happening in your VMware or Hyper-V environment. You can identify the largest resource consumers and which hosts are the least loaded, realtime and cumulative I/O load and latency on datastores, resource consumption data for hosts, clusters, resource pools and datastores and much more!
---
Capacity planning for VMware, Hyper-V and backup
Veeam ONE provides performance forecasting and capacity planning for your VMware vSphere, Microsoft Hyper-V and backup infrastructures. You can forecast resource usage and utilization trends with "what if" modeling and resource overcommit tracking for your backup and virtual infrastructures. You can also manage several deployment projects, plan hardware upgrades and server downtime, and maintain confidence that your environment can safely manage it all.
---
Raw data analysis and report customizations
Veeam ONE makes it easy to access raw performance data and custom infrastructure reports for VMware and Hyper-V, including specific CPU, memory, network and disk metrics.
You can easily define your own configuration parameters, performance metrics and filters, providing maximum flexibility. And to simplify report generation, Veeam ONE's custom report builder allows you to pull data from any field inside any existing report into one, all-inclusive document, providing the complete visibility you need.
---
Multi-tenant reporting and monitoring
IT managers can delegate VMware vSphere reporting and monitoring to system admins over a limited scope of assigned virtual machines (VMs). Admins can then monitor and customize reporting for their own VMs, while managers pre-build backup reports for the entire team. Managers are able to save hours of valuable time each month by pre-populating individual dashboards with filtered results.
Managed Service Providers (MSPs) and Veeam Cloud Service Providers (VCSPs) can leverage multi-tenant reporting and configuration to provide complete visibility into the resource consumption of their customers' environments. This can enhance their service offering, provide billing structures for backup-as-a-service clients, and more, all while safeguarding tenant data by removing manual report functions.
---
Products
Small business backup powered by Veeam
Veeam Backup Essentials™ delivers backup, recovery, monitoring and reporting for cloud, virtual and physical workloads including VMware vSphere, Microsoft Hyper-V, Nutanix AHV, Windows and Linux Servers, NAS, AWS, Azure, Google Cloud Platform and more! It's packed with powerful features, packaged and priced for the needs of your small business.
Eliminate the risk of losing access and control over your Office 365 data including Exchange, SharePoint, OneDrive for Business and Teams.
FAQs for small businesses
What products does Veeam have for small businesses?
The most widely used Veeam product for small businesses is Veeam Backup Essentials, which is used to protect VMware vSphere, Microsoft Hyper-V, Nutanix AHV as well as physical servers, workstations and cloud workloads in a single console. Veeam also has purpose-built solutions for Office 365 backup, AWS, Google Cloud Platform and Azure.
What types of small business recovery options does Veeam provide?
Veeam provides an industry-leading number of recovery options for IT Pros, making it easy to recover from data loss and downtime issues both big and small. Here are two great infographics [virtual and physical backup | Office 365 backup] to give you a taste of Veeam's recovery capabilities, including Instant VM Recovery®, granular file-level recovery, NAS restore, Windows and Linux recovery, and much more!
Does Veeam include replication, or just small business backup?
Veeam Backup Essentials includes both backup for data loss as well as replication to minimize downtime. Perfect for on-premises deployments where you take full responsibility for your data. For Veeam's purpose-built cloud backup solutions for Office 365, Azure, Google Cloud Platform and AWS, these solutions are just focused on providing backup, since replication is covered on the platforms within the cloud service itself.
---
Comparison
FEATURE
VEEAM BACKUP ESSENTIALS
OTHER SMALL BUSINESS BACKUP SOLUTIONS
THE VEEAM DIFFERENCE
THE COMPLETE SOLUTION
Single platform for virtual, physical and cloud
Yes
Partial
Veeam: Veeam protects ALL your workloads, such as virtual machines, physical servers, workstations, cloud instances, applications and more.
Others:Most vendors cannot protect all workloads, leaving you to fill the gaps with additional backup solutions.
License portability
Yes
Some vendors support
Veeam: Veeam Universal License (VUL) is a flexible and portable solution for protecting multiple, different workloads on premises and in the cloud. As your environment changes, your backup licenses can be reallocated right along with it!
Others:Some vendors tie licenses to a workload type and cannot be adjusted as your environment changes, but several vendors offer capacity or appliance-based licenses and provide some flexibility to be adjusted as you go.
RECOVERY
Full machine, disk, and guest OS file restore
Yes
Yes
Veeam: Recover an entire machine, individual disks, and guest OS files from a single backup.
Others:Almost all vendors can recover an entire machine, disks and guest OS files.
Cross-platform Instant Recovery for any workload
Yes
No or Partial
Veeam:Having extended Veeam's patented Instant VM Recovery® to other workloads, you can instantly recover any workload – virtual machines, physical servers, workstations, cloud instances – to any platform – vSphere, AWS, Azure, Hyper-V – by running them directly from the backup.
Others:Most vendors can instantly recover a VM. Yet, only a few vendors can instantly recover workloads beyond VMware or Hyper-V. Those who do, can typically instantly recover only physical servers (they cannot instantly recover other workloads, such as workstations or cloud instances).
Agentless application item recovery
Yes
No or Partial
Veeam:Agentlessly recover individual items from backups of applications such as Microsoft Exchange, SharePoint, SQL, Active Directory, Oracle and more.
Others:Half the vendors cannot granularly recover application items. Those who do, typically require agents to recover application items and offer limited recovery options (i.e. only download items to the backup server).
Restore to public cloud and object storage
Yes
No or Partial
Veeam: Recover data directly to public clouds such as AWS, Microsoft Azure and Azure Stack.
Others:Over half the vendors cannot recover data to public clouds. Those who do, typically take more manual steps than Veeam or support only one cloud platform.
BACKUP
Agentless, application-aware, image-based backups
Yes
Partial
Veeam: Create application-consistent, image-level VM backups with application-aware processing without an agent.
Others:Most vendors create application consistent VM backups without agents, but they never support all the applications that Veeam supports. Several vendors require agents for log processing or to achieve application awareness, which is needed to granularly recover application items.
Backup copy
Yes
Yes
Veeam: Copy existing backup data to another disk system for a secondary backup copy. Send backup data to an off-site location that uses dissimilar hardware.
Others: All vendors can copy existing backup data to another repository.
Backup and Recovery from Storage Snapshots
Yes
No
Veeam: Create image-based backups from storage snapshots as often as necessary with minimal impact on production and recover individual VMs, Windows physical servers, guest files, and application items from storage snapshots.
Others: Almost no vendor can create a backup from storage snapshots and recover data from storage snapshots, and rare vendors who can recover data from storage snapshots typically support few arrays and offer limited recovery options (i.e. no granular application item recovery).
Copy backups to cloud and object storage
Yes
Partial or Supported
Veeam: Immediately duplicate newly-created backups to object storage with policy-based copy management.
Others:Most vendors can copy backup to cloud object storage, but they regularly support only a limited set of cloud platforms, lack advanced backup copy settings, or have limited data recovery options from backups stored in the cloud. Over half the vendors cannot recover data to public clouds. Those who do, typically take more manual steps than Veeam or support only one cloud platform.
Automated backup testing and recovery verification
Yes
No or Partial
Veeam:Automatically test protected VMs for recoverability by running the VM directly from the backup file or replica in an isolated environment, thanks to Veeam's patented SureBackup® and SureReplica. Veeam also supports built-in scripts for application verification.
Others:Half the vendors cannot verify protected VMs for recoverability. The vendors who do, typically offer basic test recovery isolation, do not perform advanced verification tests, or lack automated or flexible verification scheduling.
Scalable, storage agnostic NAS backup and recovery
Yes
No or Partial
Veeam:Modernize NAS protection and restore to anywhere with extensive support for SMB, NFS, Microsoft Windows, and Linux file and shares without requiring vendor specific APIs or NDMP. Veeam also includes a native changed file tracking mechanism for improved RPOs
Others:Some vendors cannot protect NAS data. Those who do, typically protect only a few specific types of NAS devices, because they use NDMP or suffer from inefficiencies, as they lack capabilities such as changed block tracking.
Immutability for ransomware protection
Yes
Some vendors support
Veeam:Create immutable backup copies by leveraging advanced object storage functionality on Amazon S3 and supported S3-compatible on-premises object storage.
Others:Half the vendors can create immutable backup copies.
OTHER FEATURES
Advanced monitoring and reporting
Yes
No
Veeam: Veeam ONE™ delivers powerful monitoring and analytics for the entire IT environment, with comprehensive dashboards and over a hundred predefined and customizable reports, including Intelligent Diagnostics and Automated Remediation to automatically troubleshoot and resolve issues.
Others:Offer only basic monitoring, typically limited to backup and recovery job statistics.
Image-based VM replication
Yes
Partial
Veeam:Replicate VMs on-site or off-site for disaster recovery (DR). Seed replica VMs from existing backups.
Others:Most vendors integrate VM replication into their core backup product, but they typically have limitations, such as extra costs, support for VMware only, or VM replication from backups only (not from production VM).
Native tape support
Yes
Partial
Veeam:Store backups on standalone tapes, tape libraries, and virtual tape libraries.
Others:Most vendors can store backups on tape, but they regularly have limitations, such as limited tape management capabilities, limited recovery options from tape, or requiring a separate product.
Veeam vs SMB vendors for VM backup (.PDF)
---
Pricing Notes:
Pricing and product availability subject to change without notice.
Veeam Software is licensed per physical CPU or socket for each Managed Server unless otherwise specified. Base products include first year maintenance.
Veeam Software reserves the right to correct an error without notice.
As of October 1st 2018, the minimum purchase requirement on all subscription orders must be 10VMs.
Contact Us for More Information