Veeam Agent for Linux

Availability for public cloud and physical workloads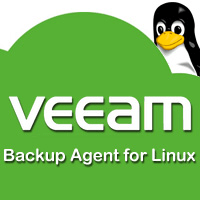 Sorry, this product is no longer available, please contact us for a replacement.
Overview:
As IT organizations look to run more Linux-based workloads in the public cloud, it is important to ensure they are backed up and can be recovered in order to avoid business disruption. However, backing up and recovering Linux instances is often cumbersome or expensive, requiring manual intervention and consuming an IT administrator's valuable time.
Veeam® Agent for Linux delivers the tools and level of interaction needed to properly back up these Linux workloads and enables the same fast, intuitive and reliable recovery options you've come to expect from Veeam.
Fast and flexible Linux backups
Veeam Agent for Linux is the perfect solution for scheduling automatic backups for your Linux instances, regardless of if they are running on physical machines, in the public cloud or both.
Veeam Agent for Linux includes:
Entire computer, volume-level and file-level backup
Built-in snapshot and changed block tracking (CBT) drivers
Support for multiple jobs
Pre-freeze and post-thaw snapshot scripts
Choice of a user-friendly UI or traditional Linux command line interface (CLI)
Integration with Veeam Backup & Replication™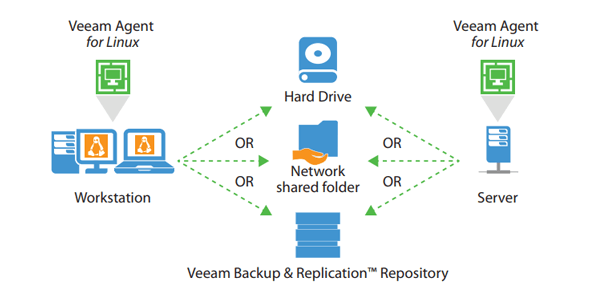 After an initial full backup has completed, Veeam Agent for Linux performs incremental backups — copying only new or changed data blocks since the last backup cycle. This means your backups will be fast and use as little storage as possible.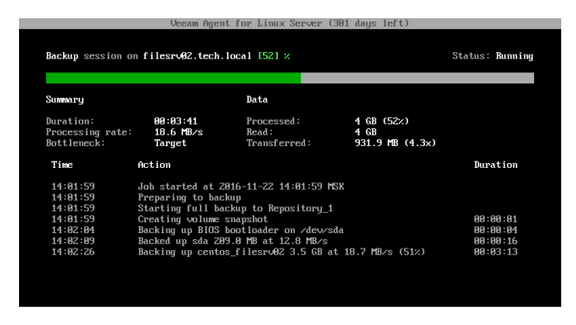 Veeam Agent for Linux is a simple backup agent that's designed to ensure the Availability of your Linux installations, regardless of if they're deployed in the public cloud or on-premises.
Are you a service provider?
Veeam Agent for Linux presents an exciting new opportunity for Veeam Cloud and Service Provider (VCSP) partners.
Using the Veeam Backup & Replication console, you can now manage Linux backups for customers along with their other Veeam backups — making Backup as a Service (BaaS) possible for the entire environment!
System requirements:
CPU: x86 processor (i386 or later)
Memory: 1 GB RAM
Hard disk: 100 MB free disk space for product installation
OS: Linux kernel 2.6.32 or later is required.
Both 64-bit and 32-bit versions of the following distributions are supported:
Debian 6–8
Ubuntu 10.04–16.10
CentOS / Oracle Linux / RHEL 6–7
Fedora 23–25
openSUSE 11.3–13.2
openSUSE Leap 42
SLES 11 SP1–12 SP2
File systems: All file systems available in the above distributions are supported except BTRFS, ZFS and NSS.
Documentation: